As we adjust to a new normal amid the COVID-19 pandemic, the Powell Tribune is inviting readers to share your "quarantine stories."
What has quarantine looked like for you and your family? What have been the unexpected silver linings through the challenges? What tips would you give to fellow Powellites stuck at home? Share images and short stories — even just a few sentences — by tagging @PowellTribune on Facebook, Instagram or Twitter with the hashtag #QuarantineStories or emailing tessa@powelltribune.com.
More information is available here.
From Tabitha Winninger of Powell:
"Today I'm thankful for the ranch. Miles to go, no people. We're on day two of no naps, so, I'm not getting anything done other than playing horses, exploring, taking care of 'babies,' having concerts on a makeshift stage. After all, this is something us working moms never get to indulge in more than just the weekends. How sweet it is, to be in crisis, but being overjoyed with memories that I'll never forget. Can you find the joy in not getting a paycheck? I wasn't sure I could. But here I am killing it. I challenge you to change your fear into positive thoughts. It was a complete day changer for us. Here's to more time and memories!"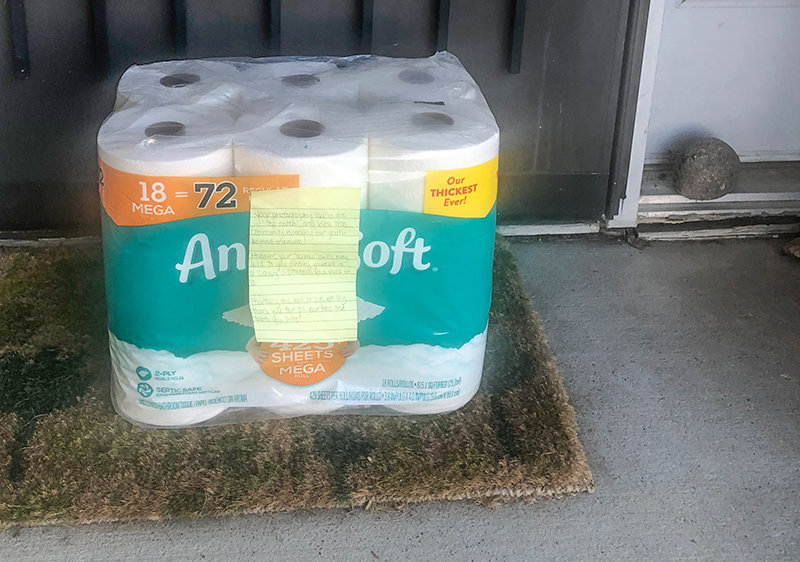 From Greg Wise of Powell:
"We have been TP'd! It was an act of love by an Angel! The doorbell rang and before we could get to it, a small blue car sped off leaving this at our front door. We've been posting a couple of memes about running out of toilet paper, but we did say that we had enough for almost a couple of weeks if we were careful. Someone decided they did not want us to worry and showered us with paper! We should be in good shape now for a long time. Let the word go out but if somebody needs a little bit of help we are now in a position to help. Thank you to whoever did this. This is why we love living in a small town in Wyoming! Someone has our back and our backside!"