When a muckraking news site published a story alleging private security contractor and Blackwater founder Erik Prince had offered his services to a Russian mercenary firm, the connections to Wyoming were not obvious; the state was never mentioned in the piece.
But in a pending lawsuit, Prince asserts the April 13 story from The Intercept was false, defamatory and "aimed … at Wyoming." Because of the article, Prince says his "reputation and professional opportunities within Wyoming suffered," along with his business interests and reputation in general.
Those contentions have become a key point of early proceedings in the case.
Although he owns a home in Wapiti, Prince is not generally known as a Wyoming businessman. The former Navy SEAL gained fame for the supporting role his Blackwater firm played in the wars in Iraq and Afghanistan, but the security contractor became infamous when its employees killed 14 Iraqi civilians and wounded 17 others in Baghdad in 2007.
In more recent years, Prince has remained a mover and shaker — and a controversial figure — on the international stage. For example, a 2017 meeting he attended with a crown prince of the United Arab Emirates and an ally of Russian President Vladimir Putin became a part of the impeachment proceedings against President Donald Trump, whom he has served as informal adviser. (Last week, Trump pardoned the four Blackwater guards who were convicted of crimes in connection with the killings in Baghdad.)
Currently, Prince leads a Hong Kong-based firm providing "security, logistics, insurance and infrastructure services" in parts of Africa and other high-conflict areas. Amid his globe-trotting, however, Prince says he does most of his work from Wyoming and calls Park County home.
Citing his ties to the state, his attorneys opted to file Prince's defamation case against The Intercept in Wyoming's U.S. District Court in May.
"Defendants wrote and published a false and defamatory article about a Wyoming resident's Wyoming-based business activities knowing that it would cause harm principally in Wyoming," New York attorney Matthew Schwartz charged in one filing.
Drawing on information from three unnamed sources, The Intercept reported Prince met with a top official from Russia's Wagner Group at an undisclosed location earlier this year and "offered his mercenary forces to support the firm's operations in Libya and Mozambique."
Wagner — which The Intercept described as "a semi-private military force that operates in countries or conflicts where the Russian government seeks plausible deniability for its activities" — reportedly turned down Prince's offer. However, the story quoted a former U.S. Treasury official who suggested simply making an offer to assist Wagner might have violated current U.S. sanctions in place against the Russian firm.
For his part, Prince swears he never met with anyone from Wagner Group — a denial The Intercept included in its reporting. His attorneys allege the outlet is "trafficking in lies," showed "an obvious and intentional disregard for the truth" and effectively made Prince out to be a traitor.
The Intercept, however, has stood behind its reporting and has described the suit as an improper attempt to learn the identity of its sources.
To win his case, Prince will ultimately have to show the story was false — and he may also have to prove the publication knew the story was false or showed a reckless disregard as to whether it was accurate.
But before the parties get to the lawsuit's merits, The Intercept is contending, among other arguments, that Wyoming is not the right place for the case to be heard. Attorneys for the outlet say The Intercept has no particular connection to the state — and Prince's ties are uncertain.
"... I have always understood him to be a resident of Northern Virginia," the lead writer of The Intercept's April story, Matthew Cole, wrote in a declaration. Cole pointed to various records, including a campaign finance document from earlier this year, in which Prince listed his address as being in Virginia.
Prince submitted his own declaration to presiding U.S. District Judge Alan Johnson in September, disputing The Intercept's reporting and laying out some of his bona fides as a Wyomingite. However, after the Powell Tribune questioned some apparent inaccuracies in his Sept. 16 statement, Prince acknowledged misstating a couple of his connections to the state.
Most notably, Prince had incorrectly asserted — under the penalties of perjury — he had "been registered to vote in Wyoming since 2017."
Voting in Wyoming
Prince registered to vote in Park County back in 1992, but that registration lapsed after he failed to vote in the county's 2002 elections, according to county records.
"He is not registered in Park County or [Wyoming] presently, unless he is not going by Erik Dean Prince and has changed his name," Park County Elections Deputy Pat Cole said in a Sept. 17 email; he said Prince hadn't voted in Wyoming since 2000.
The Powell Tribune was unable to learn Prince's voter history from 2002 and 2017. His attorney did not provide an on-the-record response to questions about his client's voting history while elections officials in Virginia said any requests for voter information must be made in person, at the location where the individual registered.
Meanwhile, Prince is once again registered as a Park County voter. On Sept. 30, Prince personally visited the Park County Elections Office, registered and cast a general election ballot, according to the clerk's office.
Two weeks later, on Oct. 14, Prince submitted a new sworn statement in his defamation case, in which he acknowledged he had not registered to vote in Wyoming in 2017.
"I believed that to be true at the time that I signed my declaration," Prince wrote, "but I have since come to learn that I was mistaken."
Prince said he thought he'd registered to vote when he'd obtained a Wyoming driver's license in October 2017.
At the time, Prince was exploring the possibility of mounting a Republican primary challenge to incumbent U.S. Sen. John Barrasso, R-Wyo. The New York Times broke the news of Prince's potential run on Oct. 8, 2017, saying he'd recently traveled to Wyoming "to explore ways to establish residency there."
The following day, Breitbart Editor-in-Chief Alex Marlow asked Prince whether the Times' report was "real or fake news," mentioning, "I'm not 100% positive on your connection to Wyoming."
Prince noted he owned a home in Wyoming and had been connected to the state since 1992. "[I] was a Wyoming resident for many years," he told Brietbart.
That same day — Oct. 9, 2017 — Prince obtained a Wyoming's driver's license, which he touted in another interview with Breitbart a few days later.
"I have a Wyoming driver's license, I am a Wyoming resident, and exploration is underway," Prince said of his potential Senate bid.
However, he ultimately did not challenge Barrasso in 2018 — nor did he vote in those "off-year" elections, Prince acknowledged in October's revised declaration.
Park County records show he also skipped August's primary election, but Prince said he "had intended to vote in Wyoming this year." Prince said he learned he wasn't registered "when I went to cast my early vote" for the general election in late September. He did not mention the inquiries from the Powell Tribune about his lapsed registration that preceded his vote.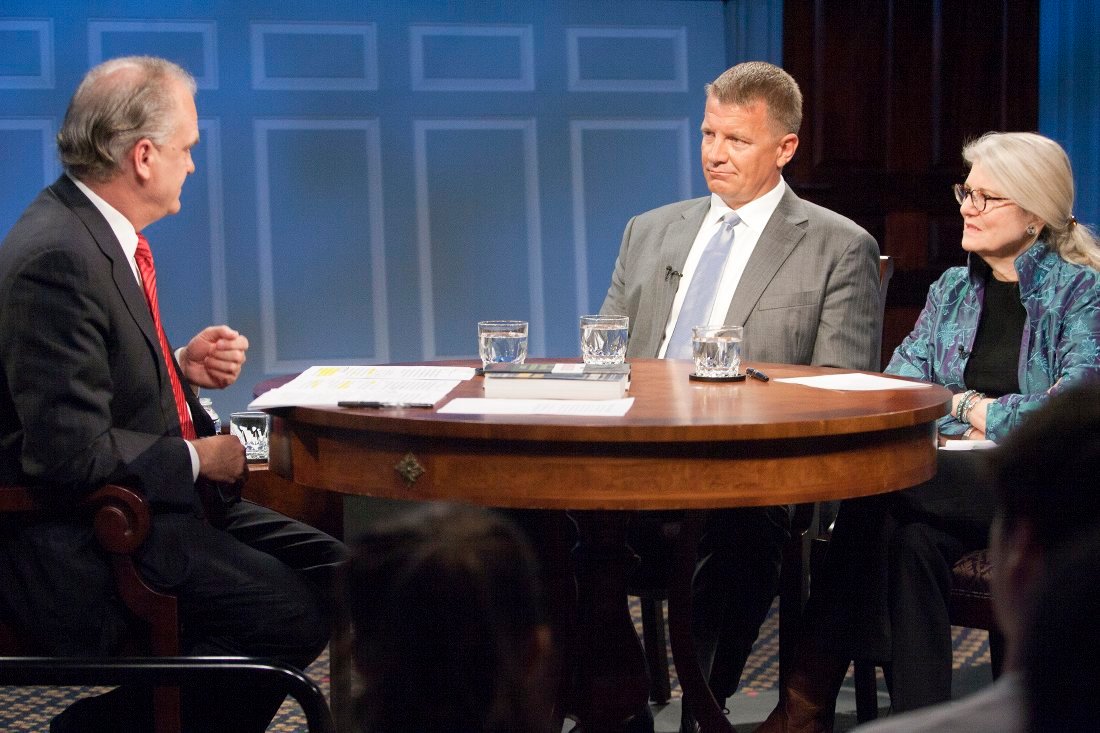 Military contractor Erik Prince (center) is pictured during a 2015 interview on the program American Forum, produced by the University of Virginia's Miller Center. To his right is journalist Ann Hagedorn, with host Doug Blackmon at left. Photo courtesy Miller Center
While he has not been actively involved in Wyoming politics specifically, Prince comes from a political family — he is the brother of U.S. Education Secretary Betsy DeVos — and is an active political donor. From 1986 through the present, he's made roughly 100 contributions totaling more than $630,000 to Republican causes and Congressional candidates, according to Federal Election Commission records.
Between 1992 and 2001, Prince often listed Park County as his home, consistent with his voting records. However, in all of the 74 campaign donations he's made since 2002 — including a $3,042.86 donation to the Wyoming Republican Party in 2016 — Prince has been identified with a Virginia address. That includes a pair of donations he made in March and October, in which he apparently listed his address as a post office box in Middleburg, Virginia.
'I believe they are Delaware entities'
As further evidence of his ties to Wyoming and the business he conducts in the state, Prince's initial declaration said he owned "several" operating entities registered to his residence in Wapiti. He gave the examples of "Jones Creek" and "CMNS Systems." However, neither of those entities appear to be registered to do business in Wyoming; the only reference the Tribune could find to a company named CMNS Systems was an LLC formed in Delaware in August — months after Prince filed his suit.
In apparent response to inquiries from the Tribune about the two companies' ties to Wyoming, Prince's revised declaration said he "misidentified the names" of the entities.
"At the time I signed my [September] declaration I believed Jones Creek and CMNS to be Wyoming entities, but I have subsequently learned they are not; I believe they are Delaware entities," Prince wrote in the document, which he signed from California. Prince said he should have named a different company — Moyock Medical Supplies LLC — as an example of an entity he owns that's registered to his address in Wapiti. There is little publicly available information about the company, but multiple Prince ventures, including Blackwater, have been based out of Moyock, North Carolina.
State records show Moyock Medical Supplies was formed in Wyoming by an associate of Prince's on April 15 — two days after The Intercept published its article. The company's principal office is listed as being at the Prince family's ranch in Wapiti, though the mailing address is a property in Virginia.
A Wapiti home
Prince's parents, Elsa Prince and the late Edgar Prince, bought the 940-acre Double E Ranch in the Wapiti Valley in the early 1990s. Valued at roughly $12 million by the Park County Assessor's Office, the property includes a 17,470-square-foot residence that ranks among the largest in the area; county records show Prince owns a smaller home on an adjoining 10-acre parcel.
Prince said he "regularly host[s] customers, investors, employees and other business associates at my Wyoming ranch."
In early 2017, Prince reportedly welcomed James O'Keefe and others from the conservative group Project Veritas, which describes itself as "an army of guerrilla journalists." That February, O'Keefe tweeted an image of himself taking aim with a silenced handgun amid snowy mountains, saying the team was "undergoing intense training from a classified location as we make Project Veritas the next great intelligence agency." The Intercept ultimately identified the site as the Prince ranch in a 2019 article.
In the pending defamation case, Prince's attorneys have cited that reporting as evidence The Intercept knew Prince did his business from Wyoming, going as far as to allege the article's unstated "focus" was on Prince's "reputation and livelihood in Wyoming."
The Intercept attorneys, however, pointed to past statements from Prince and records indicating he lives in Virginia. For instance, Prince's 2014 memoir said he "splits his time between homes in Virginia and Abu Dhabi, where he pursues a variety of business ventures."
"Even if it is true that Prince now genuinely considers himself a Wyoming resident, it cannot be said that [The Intercept] could fairly anticipate being [hauled] into court in Wyoming," the attorneys wrote in a September filing.
Debating jurisdiction
Regardless, Prince's residency is not the real issue in the case. Despite making multiple comments about Prince's ties to Virginia, The Intercept's legal team said it's "immaterial" to their jurisdictional arguments, which center on the publication's own lack of ties to Wyoming.
For example, the co-authors of the piece in dispute, Cole and Alex Emmons, say they're New York and Washington, D.C., residents who've never been to Wyoming. And they both say they didn't interview anyone in the state for the article. Their attorneys wrote that the story "did not focus its efforts on or in Wyoming, nor would it have any reason to do so ..."
Presiding Judge Johnson, who is based in Cheyenne, has himself signaled some uncertainty about whether Wyoming is the right place for Prince's case to be heard; in early November, Johnson asked the parties to submit additional briefs on either transferring the case to another district or delving further into the issues related to jurisdiction.
Prince's attorneys responded that, if the judge has any doubts about Wyoming being the appropriate venue for the case, they should be allowed to learn the identity of The Intercept's confidential sources.
"Given Mr. Prince's extensive personal and professional ties to Wyoming, it is certainly plausible that some or all of [The Intercept's] sources — to the extent they exist at all — were located in Wyoming," Prince's legal team wrote.
However, lawyers for the publication say they should not have to reveal who told them about Prince's alleged meeting with Wagner Group or where they were told it occurred. "... To do so would potentially reveal the source's identity, in breach of a promise of confidentiality made to the source, and creating personal risk for the source," they wrote, adding Prince's "real motive in bringing this lawsuit — obtaining the identity of [The Intercept's] confidential source — is plain."
Further, if Prince is allowed to take discovery of The Intercept, the lawyers say they should be allowed to probe Prince's ties to Virginia versus Wyoming, since he "already has been forced to admit [his sworn statements] contained certain falsehoods."
If Judge Johnson concludes he lacks jurisdiction to hear the case in Wyoming, Prince's attorneys say the suit should be transferred to the Southern District of New York, where The Intercept is based.
The Intercept, however, wants the complaint dismissed. It argues the article was not defamatory and the challenged statements would be protected as "opinion based on disclosed facts."
The dispute over jurisdiction could have a direct impact on the case. Beyond involving a different pool of jurors and a different judge, Prince may have a better chance of learning the identity of The Intercept's sources if the case stays in Wyoming, where there is no specific "shield law" protecting the confidentiality of reporters' sources. But if the case was transferred to New York, that state's laws could apply. And as the Reporters Committee for Freedom of the Press summarizes, New York "provides absolute protection from forced disclosure of materials received in confidence by a 'professional journalist,' including the identity of a source."
Waiting for a decision
The parties are currently awaiting a ruling from Judge Johnson, who could choose to allow the case to proceed in Wyoming; permit some more limited fact-gathering about the appropriate jurisdiction; transfer the case to New York; or throw it out entirely.
It's among a number of issues and motions that will have to be sorted out before a judge or jury would consider the accuracy of The Intercept's April article.
An attorney for The Intercept reportedly told Prince's lawyer in the spring the piece was "one in a series of planned articles concerning Mr. Prince's activities," though it has not published any further pieces to date.
Other outlets, however, have continued writing about the contractor. For example, Rolling Stone published an investigative piece in October asserting Prince participated in a plan to dampen turnout among Black voters in the 2016 election.